Product image 1
Product image 2
Product image 3
Product image 4
Product image 5
Keep Your Sink And Kitchen Tidy With The Corner Draining Basket That Fits Into Your Drains To Allow You To Dry Vegetables, Dishes, And More!
Free up space around your kitchen countertop and sink area with the help of this Triangular Sink Drain Shelf.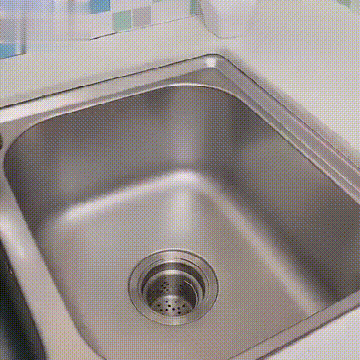 Are you looking for a basket that would help you to dry kitchen materials thoroughly? If so, Corner Draining Basket is absolutely for you. This basket can comfortably accommodate all kinds of small objects and make our kitchen work easy.
Features:
QUALITY MATERIAL: The basket has thick PP material, no punching, no sticking, sticking firmly. It does not hurt the wall. It can be hung in the bathroom, kitchen, and other tiles, smooth wall. This basket is convenient for daily storage.
  
CLEAN AND HYGENIC:It can be hung in the kitchen, the bathroom to prevent the sponge, toothbrush, washcloth, razor, etc, at the bottom of the hollow Drain and dry. It's not easy to breed bacteria
SUCKER FIXED: Strong suction sucker is firm without leaving traces. It is easy to disassemble and has a substantial load-bearing capacity. Small objects can be placed. 


CONCISE AND SORT OUT: Neatness and tidiness can be used to store kitchen gadgets, and other small objects can be accommodated.


EASY TO INSTSLL:The installation and removal are easy — a great help for kitchen, washroom with some simple steps to install.
     RESTRAINED DESIGN: The bottom of the quick drain tank is hollowed out, and the hole size is uniform.
SPECIFICATIONS
Material:

 Food-grade plastic

Size: 26 x 14.2 x 10cm
1 x Triangular Sink Drain Shelf